Modernizing Clinical Trial Accounting
Pharmaceutical development is undergoing significant transformational changes. The prime candidate for modernization in clinical trials is the back-office and the business-oriented function of clinical trial accounting. Although, many see this area as country-specific and not a critical path activity for a clinical study. However, considering that efficiency, cost-effectiveness, speed, participant, investigator, and site satisfaction are all areas of potential impact to results, there is a need to modernize clinical trial accounting that can lead to substantial benefits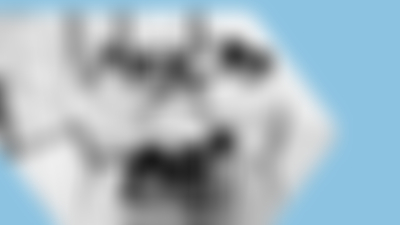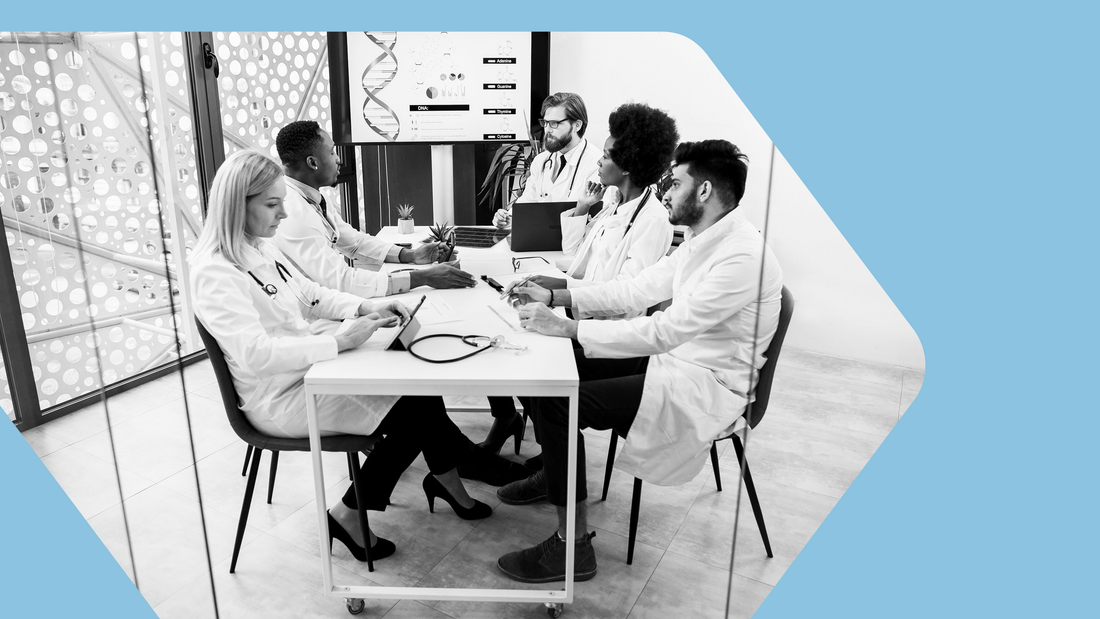 An excellent place to start would be to examine some of the common pain points in the clinical trial accounting process and then consider some of the opportunities to mitigate them and benefit the clinical study and the participants.
Current Challenges in Clinical Trial Accounting
The clinical trial accounting end-to-end business process can be divided into three stages: budgeting, execution, and settlement. Efficiently executing these activities can reduce study costs, increase speed and efficiency, improve transparency, decrease the financial risks of running studies, and improve the experience of clinical trial stakeholders.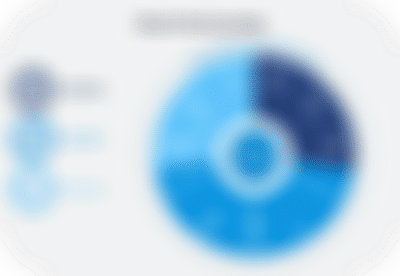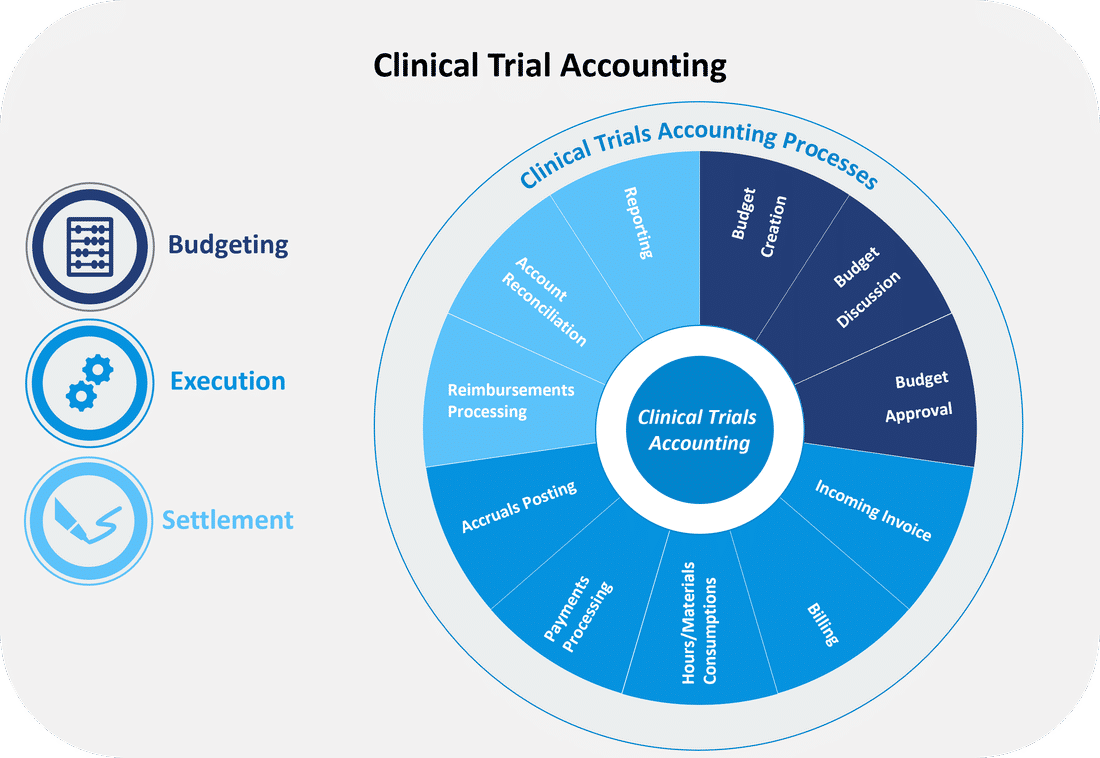 The budgeting process comprises the activities related to the creation, discussion/negotiation, and approval of the clinical trial budget. The execution process covers the clinical trial accounting activities of invoicing, payments processing, consumptions, and accrual postings. The settlement process is where country-level reimbursements are performed, and reporting takes place.
Across these three stages of clinical trial accounting there are industry common pain points:
Overall inefficiency and inconsistency at country level operations
Rising extraordinary costs
Lack of transparency and access to required information
Delay in payments and reimbursements
Poor quality experience for investigators and patients
"When we consider that all pharma companies face essentially the same requirements for clinical trial accounting, we can then recognize that there would then be a need for a common process, and therefore also a need for a common solution design" says Dan Silva (Leader of the Life Sciences R&D practice area for Tenthpin).
To understand how these pain points can impact results, let's go a little deeper into each stage.
Budgeting Stage
Budgeting for the cost of the clinical trial generally occurs at the trial level, which is then allocated to the country level and then further down to the site level. The entire budgeting process from creation to approval usually follows a roll-down / roll-up approach through negotiation.
Often there isn't a global harmonization regarding how the budget should be evaluated. There isn't actual historical data to be analyzed on which to base the budget most of the time. Without having the previous experience to inform the budget discussion, it becomes routinely time-consuming to obtain agreements.
After approval, comparisons and analyses are made to compare the budget against the actual costs and determine current cost deviations. As the budget is usually maintained in a spreadsheet application, this makes the process of updates and comparison to the plan a manual, ongoing, and labor-intensive task. With no centralized system for this data comes a lack of ability to produce meaningful reports, leading to poor forecasts and accrual calculations.
Due to desynchronization between planning and execution frameworks, the budgets, frequently created with a high level of detail, are later financially managed at overall expense levels leading to a lack of the correct information to control deviations.
On the people side of the equation, the process inefficiencies and lack of visibility create uncertainties and pressures on sponsors and investigators, contributing to a suboptimal experience.
Execution Stage
After the trial has started, it is necessary to manage the accounting requests. In this process, it is widespread to see many inefficiencies; according to the SCRS, Society for Clinical Research Sites, almost half of all sites generate invoices by hand or use a spreadsheet application.
As the number of clinical trials increases, so do the payment and reimbursement requests. Without a proper enterprise-level system to accelerate and facilitate the incoming invoice posting and billing to sponsors, which actively monitor the due dates and payments batches, it becomes labor-intensive on the accounting department. Delays and inconsistencies in this processing naturally decrease the clinical trial quality experience for investigators and relevant participants.
Furthermore, financial compliance requirements on reasonability and timing of reimbursements to study participants sit at the site level where it might lack financial controls, far from the sponsor's awareness.
One important execution activity from the study is consumption, which can be divided into the hours invested by all study health professionals and the study materials. Correct booking of these consumptions will increase the transparency of the activities performed during the clinical trial and improve the study financial performance assessment.
Lack of fiscal and legal information transparency, between local and global, limits local incentives for R&D investments and generates administrative burden and additional costs during execution when dealing with transactional taxes (e.g., VAT on study supplies), which can differ from country to country.
Settlement Stage
Upon clinical trial conclusion, it is necessary to perform a financial close from the accounting perspective. The closing should produce reports to analyze the economic impact and present the figures to the sponsor to make conclusions on the overall clinical trial performance and identify what can be improved for the subsequent clinical trials. Without a centralized system, it is not feasible to obtain a report to facilitate this analysis on the outcome; opportunities to improve and standardize are therefore lost.
Another limitation is often seen in the reimbursement procedures from the sponsor headquarters to their country-level subsidiaries. These procedures are crucial for successful consolidation and intercompany booking procedures. This enterprise view is necessary to proceed with all account reconciliations to close the clinical trial properly.
Of course, proper budget management will help streamline execution, and on-time financial performance will speed up and ease the settlement of the study.
What are Possible Improvements?
Let us take note that many of the current pain points discussed are not new. They are in many ways the cause and effect of the country-level distributed processing model and a lack of leveraging existing and more contemporary application technology components.
Many focus areas could bring significant improvements. However, the foundation of this should be starting with using an enterprise-level financial platform and all its capabilities, coupled with cloud and proven integration and automation tools.
Some specific areas where a fresh look at the business process and application capabilities could lead to substantial improvements include:
Data Integration between the operational and enterprise financials systems to support end-to-end processes inclusive of all clinical trial accounting data for a specific clinical trial into one central system and allowing easy access.
Budget Management uses one standard application to create, change and display the budget and leverage historical versions and standards to develop new budgets.
Reporting improvements using analytics and web portals to provide dashboards to the stakeholders for a mutual understanding of the status.

Financial Accounting improvements include invoice processing on a single enterprise solution, managing payments and reimbursements more efficiently based on batches and due dates, managing different local tax rules and benefits on R&D expenses, and posting accruals more accurately.
With all the processes and procedures integrated, managing clinical trial accounting from beginning to end becomes more streamlined, with increased simplicity, transparency, and greater oversight, enhancing the sponsor, investigator, and participant experience.
Please don't hesitate to reach out to our Life Sciences Finance experts to find out more.
Stay up to date with the latest #Lifeattenthpin #LifeSciences #Pharma #MedDevices #Biotech #Digitalforlife #Thoughtleadership #Medical Technology #AnimalHealth news by following us on Twitter @TenthpinMC Instagram #LifeAtTenthpin Facebook Tenthpin and our Tenthpin LinkedIn corporate page.